FEEST organizes alongside youth in White Center and Delridge to combat the root causes of food injustice. As a youth-led food justice organization we build power by creating thriving and creative spaces for both personal and collective transformations.
FEEST delivers unique out-­of-­school programs to youth in the disinvested neighborhoods of Delridge and White Center. In addition to the practical skills youth gain through cooking, food is our vehicle for community building, cultural sharing, risk taking, and leadership development. We empower high school youth to educate their peers and families about healthy eating, food justice and racial equity. These youth leaders develop the skills to be critical thinkers and advocates in all areas of their lives. We are uniquely equipped to support youth from diverse backgrounds in strengthening their cultural identity, connecting with their community and creating long lasting change.
Support FEEST!
Food Empowerment Education & Sustainability Team (FEEST) works at the nexus of nutrition education, health equity, food access, racial justice, and youth empowerment to increase health in low income communities of color and develop leadership for lasting change.
Recent blog posts
Find out the latest news from FEEST participants and staff.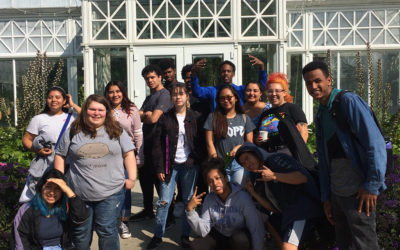 Meet the 2018–2019 FEEST youth leaders! This year's cohort is our biggest yet, with 22 youth from 4 high schools — Chief Sealth, Evergreen, Rainier Beach, and Tyee. We kicked off the program year with a DOPE summer camp. Two weeks of learning, sharing, and exploring...
read more
FEEST on Instagram
Follow us @FEESTSeattle! We cultivate youth food justice leaders. Join us at Chief Sealth H.S. and Evergreen Campus!
Show FEEST some love!
Youth are in the lead at FEEST because we know that change is not effective unless those most impacted by health inequities are the decision makers. Support youth leadership by donating today, OR sign up for our newsletter to learn more!

Donate now
Sign up for our newsletter