Priority Deadline: Friday, May 31, 2019
Title: FEEST Dinner Coordinator (40 hours week // 1 FTE)
Starting date: July 2019 Supervisor: Organizing Director
FEEST (Food Empowerment Education & Sustainability Team) is an organization led by youth of color in South Seattle and South King County working to improve health in their schools. Focusing on the need for more healthy, affordable, and culturally relevant food at school, FEEST centers young people as leaders toward concrete changes in our food systems. We celebrate food and culture at community dinners and build power to win policy changes that increase food access for all students.
Through our weekly, youth-led dinners we fundamentally change young people's relationship to food and promote creative risk-taking and connection through community building. FEEST hosts dinners every other week at four high schools where we gather youth to cook an entire dinner from scratch using fresh fruits, vegetables, and halal meat from local markets.
Dinners serve as a pipeline to recruit and develop emerging youth food justice leaders for our year-long, paid leadership development program. Youth leaders in this program receive over 400 hours of mentorship, leadership training and organizing skills. Throughout the school year FEEST youth lead the community dinners and organize their peers and families in health justice campaigns. Successes from these campaigns have included an expanded school salad bar, new, culturally-relevant school lunch items, and new water bottle filling stations.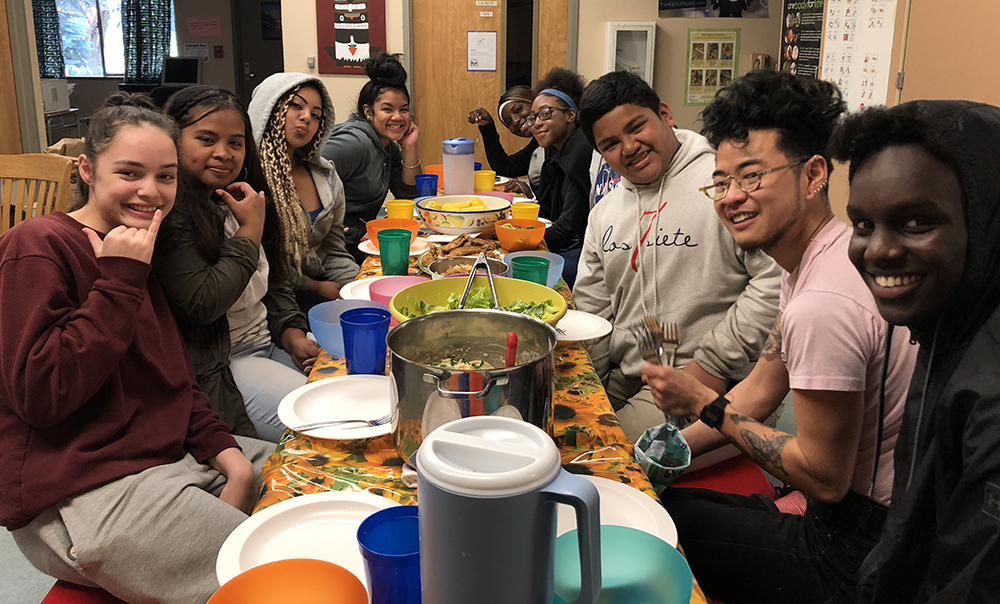 Job Responsibilities
Youth Mentorship & Facilitation (30%)
Coordinate and facilitate 1-2

youth leader

meetings a week at respective school sites including; developing meeting agendas, supporting youth leads in curriculum development, dinner meal preparation, and pop-ed workshops

Co-create curriculum with other dinner coordinator and youth (e.g.  social justice, food justice, community organizing, peer facilitation etc.) for dinner teams in the Highline and Seattle Public School Districts

Mentor 8 Seattle Public School District youth leaders to facilitate dinners and lead their peers in a safe learning environment in the dinner space (

this position is responsible for the Seattle Public School dinner teams. We have a second Dinner Coordinator position that is responsible for the Highline Public School dinner teams.

)

Support in executing strategic program outcome goals in efficient and proactive work plan

Contribute to the quarterly all-leader team retreats, including; agenda development, food coordination, youth leadership responsibilities, and transportation coordination

Coordinate end of year youth leaders graduation

Co-facilitate and co-lead a two week youth organizing summer camp for incoming leaders, responsibilities include; securing venue, co-developing curriculum on social justice, food equity issues, facilitation and leadership development, coordinate guest chefs, volunteers and food coordination, cultivating new partnerships.
Dinner Coordination (50%)
Lead Seattle Public School District Dinners (Chief Sealth HS and Rainier Beach HS), support dinners in Highline School District.

Conduct outreach for dinners to increase youth awareness and participation

Work as a lead staff with the dinner team; lead in developing curriculum, event planning, and menu preparation

On a bi-annual basis catalogue all dinner supplies (e.g. cookware, staple foods, knives) and make bulk orders as needed.

Maintain and build relationships with local markets and community members to procure fresh vegetables and fruits for dinners

Coordinate guest chefs, volunteers, and community partners to support school-based dinner space

Cultivate deep relationships and mentorship with dinner participants
Admin (15%)
Responsible for tracking receipts, dinner reporting, dinner program budgeting, fellowship attendance and time sheets, dinner participant attendance, etc.

Distributing and collecting surveys from fellows and dinner participants on a quarterly basis

Coordinate annual outreach and hiring of new youth leaders

Steward school and and district partnerships; including securing space for dinners, creating clear communications with school staff, coordinating outreach events during school time and ensuring strong community relationships.
Organization-wide (5%)
Contribute to coordinating organizational events including Fresh Flavor and Make Food Make Fam

Participate in team-wide fundraising activities including phone-banking and individual asks

Co-coordinate with program team for youth participation and leadership development for events
Additional Information
Applications will be accepted on a rolling basis and the position is open until filled. Priority will be given to applications received by Friday, May 31, 2019. Ideal start date is July 1, 2019.
Salary for 40 hours per week: $50k annually

We provide full medical benefits, dental, vision, a health benefits bank, generous paid time off, and access to professional development each year.
Please submit cover letter, resume and three references to:
Email: jobs@feestseattle.org
Subject: Dinner Coordinator (FULL NAME)
FEEST is an Equal Opportunity Employer. People of color, queer, gay, lesbian and/or bisexual people, transgender, genderqueer and/or non-binary folks are encouraged to apply. Work is performed in an office environment. Some heavy lifting and physical labor is required during special events. Reasonable accommodations may be made to enable individuals with disabilities to perform the essential functions of this job.