Recent blog posts
Find out the latest news from FEEST participants and staff.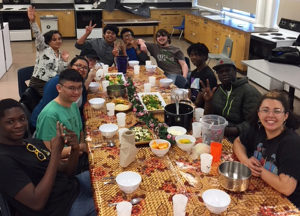 We're super excited to announce FEEST is expanding into two new schools next school year! After some really great successes in Delridge and White Center (read all about this past year's accomplishments), we're honored to be stretching and building new connections in...
FEEST on Instagram
Follow us @FEESTSeattle! We cultivate youth food justice leaders. Join us at Chief Sealth H.S. and Evergreen Campus!
Show FEEST some love!
Youth are in the lead at FEEST because we know that change is not effective unless those most impacted by health inequities are the decision makers. Support youth leadership by donating today, OR sign up for our newsletter to get the latest from FEEST!

Donate now
Sign up for our newsletter